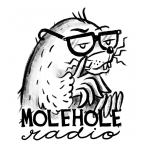 Don't call it a comeback, cuz to be a comeback someone would have to care ..
El topo is back to talk about the fun filled shenanigans that have transpired since our last show (I believe  the Berlin wall was still up ). He'll also get into dark scary corners of Reddit and OKcupid, talk a little star wars and video games and generally has a rip roaring good time.
Won't you join him in the pure wonderment of it all ?
Also Topo's instagram is ELTOPOXL
enjoy
intro/outro music by Lunchguns and Topo
Podcast: Play in new window | Download