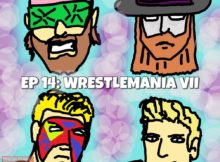 Welcome back to Hulkamania is Dead! The most original wrestling podcast
where the hosting squad has re-booked the WWF from 1984 -WITHOUT Hulk Hogan!
This week Coby Nida and Jimmy Price time travel to 1991 and fantasy book the
enitre WrestleMania 7 card – what happens when The Undertaker turn the Macho King into a mad man? Who will prevail in the
battle between the hart foundation and the rockers? And finally find out who is THE MAN at the end of the epic between Ric Flair and Sting!
Find out what happens and where the hosting squad end up next- join us bi-weekly until 1993
follow us on facebook @WretroMania
on twitter @WretroManiaPod
write to us @ WretroManiaPodcast@gmail.com